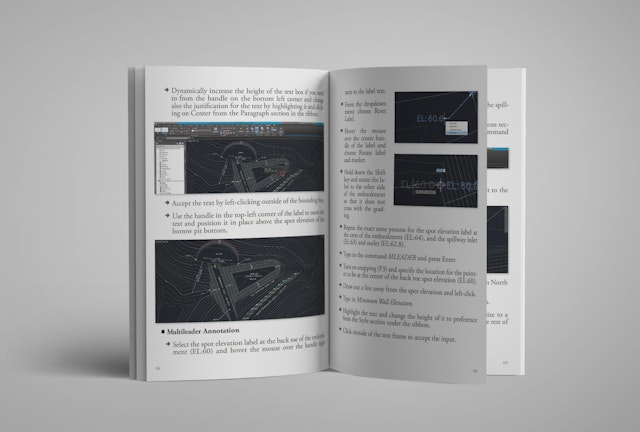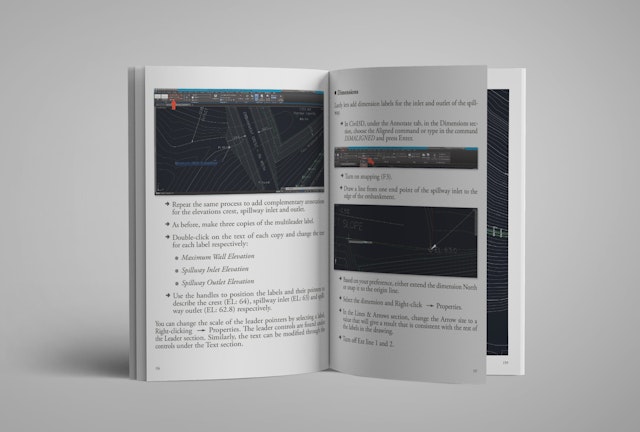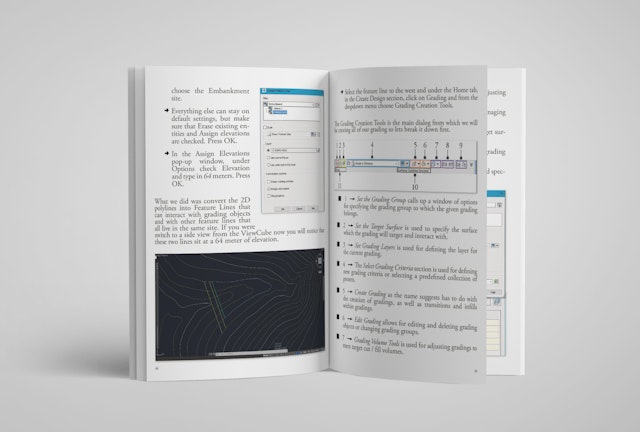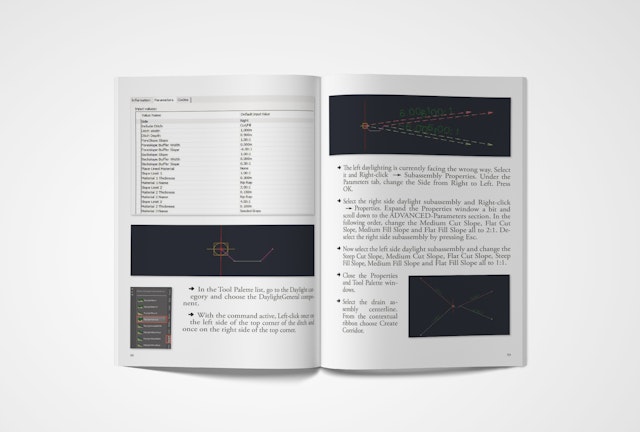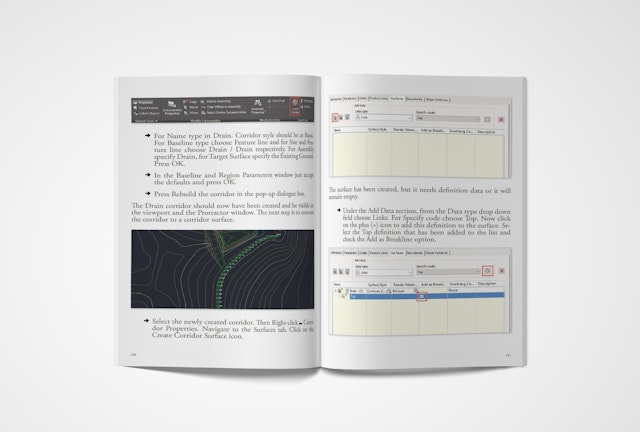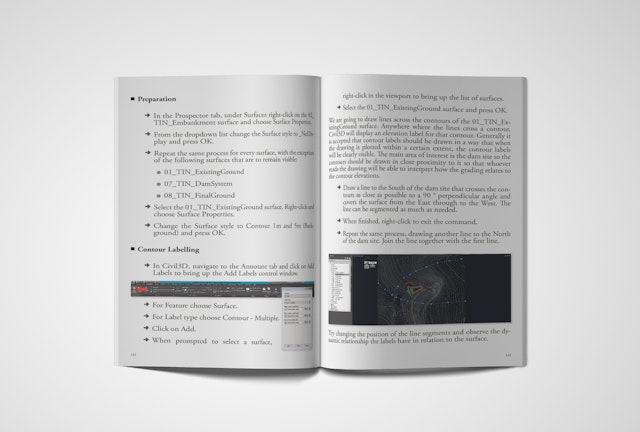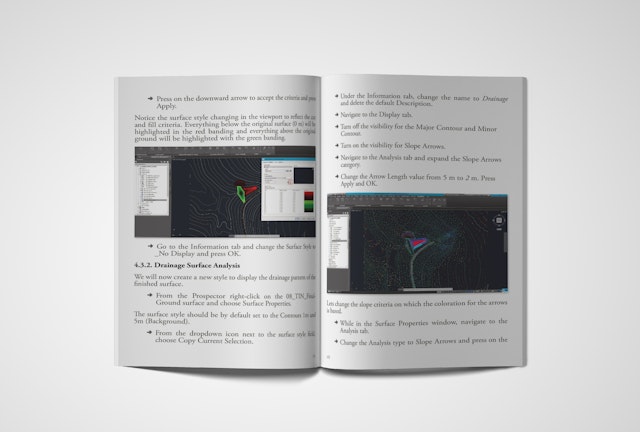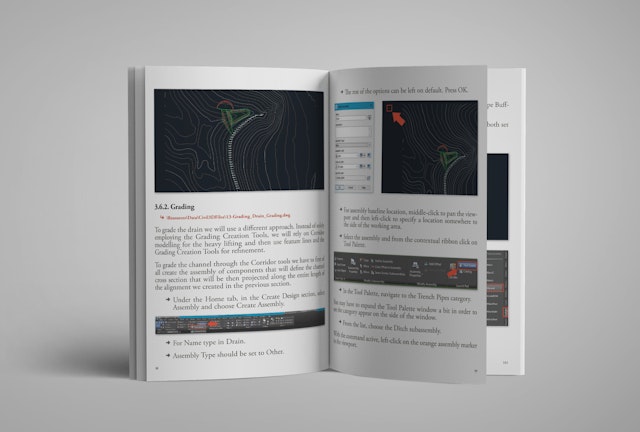 In 2017 I authored and published the world's first dam grading manual. At nearly 300 pages, this book outlines through pain-staking detail a highly efficient method for producing small earthen farm dam construction documentation compliant with existing regulatory frameworks.
The content is divided between five main chapters:
I. Introduction
II. Mapping
III. Grading
IV. Analysis
V. Output
Each chapter is broken down to the major and minor steps that guide the reader from the initial project brief and concept design towards the culmination of the output of all the various grading plans, reports and data exports.
For a full contents list see below.
Chapter I - Introduction
1.1. Introduction
1.2 Project Overview

Project Objectives
Project Data

1.3. Standards

CAD Standards
Grading Standards

1.4. Hardware and Software
Chapter II - Mapping
2.1 Geoprocessing

2.1.1. Import
2.1.2 Defining Projection
2.1.3. Raster Clipping

2.2. Extraction
2.3. Optimisation

2.3.1. Manual Noise Reduction
2.3.2. Automated Noise Reduction

2.4. Smoothing
2.5. Simplification
2.6. Symbology
2.7 Output
Chapter III - Grading
3.1 Data Input
3.2. Surface Creation

3.2.1. Preparation
3.2.2. Surface Definition

3.3. Grading the Embankment

3.3.1. Blocking
3.3.2. Grading
3.3.3. Adjusting the Embankment

3.4. Grading the Spillway

3.4.1. Blocking
3.4.2. Grading

3.5. Grading the Borrow Pit

3.5.1. Blocking
3.5.2. Grading

3.6. Grading the Diversion Drain

3.6.1. Blocking
3.6.2. Grading

3.7. Water Volume Surface
Chapter IV - Analysis
4.1. Pasting Surfaces
4.2. Volumetric Analysis

4.2.1. Preparation
4.2.2. Composite Volumes
4.2.3. Volume Surfaces

4.3. Surface Analysis

4.3.1. Cut and Fill Surface Analysis
4.3.2. Drainage Surface Analysis
4.3.3. Slope Surface Analysis
4.3.4. Contour Surface Analysis

4.4. Labels and Tables

4.4.1. Cut & Fill Exhibit
4.4.2. Slope Exhibit
4.4.3 Surface Labels
4.4.4. Annotation Labels
4.4.5. Dimensions

4.5. Sections and Profiles

4.5.1. Quick Cross Section and Quick Profile
4.5.2. Samples Lines and Sections
4.5.2. Profile and Profile Views
Chapter V - Output
5.1. Plan and Profile Sheet Plotting

5.1.1. Layout Setup
5.1.2. Sheet #01 - Plan Detail - Final Ground
5.1.3. Sheet #02 - Plan Detail - Final Ground & Volumetrics
5.1.4. Sheet #03 - Plan Detail - Final Ground & Cut and Fill
5.1.5. Sheet #04 - Plan Detail - Final Ground & Drainage
5.1.6. Sheet #05 - Plan Overview - Final Ground
5.1.7. Sheet #06 - Profile - Existing Ground & Final Ground
5.1.8. Sheet #07 - Plan Detail & Final Ground Profile

5.3. Volume Report
5.4. Surface Output

5.4.1. Grading Surfaces
5.4.2. Surface Analysis
5.4.3. Folder Organisation
5.4.5. Digital Elevation Model

5.5. Drawing Output

5.5.1. Drawing Export
5.5.2. Layout Export
Topics include:
Working with and setting up digital elevation models for analysis;
Optimizing contour data for grading;
Importing data into civil engineering software;
Setting up your grading documents for effective working;
Working non-destructively with procedural techniques for a management-free workflow;
Creating triangulated surfaces and managing surface properties;
Grading embankments, spillways, borrow pits, diversion channels;
Preparing surfaces for analysis;
Carrying out surface analysis such as slope and drainage based on predefined criteria;
Creating and managing volume surfaces;
Carrying out composite and volume surface volumetric analysis;
Creating labels, tables, annotations and dimensions;
Creating sections, samples and profiles;
Preparing plan and profile layout sheets for printing;
Plotting grading sheets;
Preparing volume reports;
Exporting grading surfaces, labels, tables, surface analysis and volumetric data to Google Earth;
Exporting surface digital elevation models;
Organizing surface data in Google Earth;